In spaces with high noise levels, we want good acoustics. To prevent that visitors are distracted by the noise around them. In restaurants or offices, for example. If many hard materials are used, sounds can sometimes echo too much. Resulting in unpleasant acoustics.
 A beautiful design with a focus on acoustic performance is possible, also in steel. The New York Ceiling Co. Acoustic tiles feature micro-perforation. This allows the sound waves to partially pass through instead of being completely reverberated. Combined with a hollow space behind the tiles and sound-absorbing foam, the result is a more pleasant acoustic environment. The sound absorption can reduce the noise by up to 85%.
The Acoustical tiles are very suitable for ceilings and walls in restaurants, bars, hotel lobbies, offices, conference rooms, libraries and other high-traffic areas.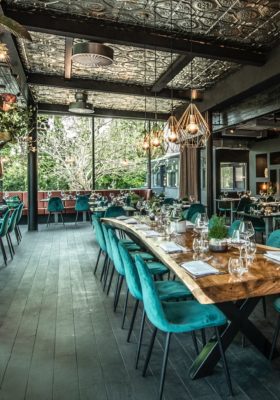 Acoustical | specifications
patterns
Available in almost all patterns. Both in nail-up and drop-in. The patterns below are available as Acoustical tiles. Combine them with the colour of your choice.
#106

#112

#114

#123

#141

#401

#402

#405

#408

#416

#418

#424

#603

#617

#619

#620

#621

#627

#630

#631

#F01

#F02

 

 

 
 
 
VIEW THE PATTERNS →
micro-perforation
The holes are virtually invisible due to their minimal size.
| | |
| --- | --- |
| perforation/ ∅ | 0,66 mm |
| perforation/ distance | 5,2 mm |
sound absorption
Our Acoustical tiles can reduce noise by up to 85%.
| | |
| --- | --- |
| nrc-value / tile | 0,25 |
| nrc value / tile combined with acoustic foam | 0,85 |