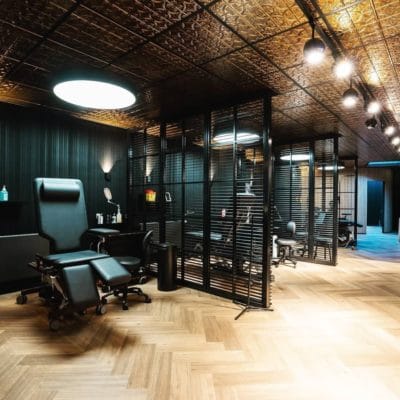 Installation of
Drop-in
| | |
| --- | --- |
| application | suspended ceiling |
| size | approx. 590 x 590 mm (depending on pattern) |
1

Place the tiles in the grid of the suspended ceiling (600 x 600 mm).

2

After placing the tile, it can be locked into place with the clips that we supply with the tiles.

3

The grid can be painted or spray-painted to match the colour of the tiles.
Installation of
Nail-up
| | |
| --- | --- |
| application | wall, furniture and ceiling |
| size | approx. 610 x 610 mm (depending on pattern) – overlap approx. 7 mm on all sides |
placing

1

Make a scale drawing of the ceiling or wall. Mark the layout of the tiles on it; add the filler panels and cornices if applicable.

2

Make sure the substrate (wall/ceiling) you will be working on is level. 


3

Copy your drawing from point 1 to the ceiling and draw the centre of the pattern with a chalk line. 


4

Start in the centre of the room and work your way out. Make sure the tiles overlap on the outer edge. 


5

Install the tiles first. Then the filler panels (if applicable) and finally the cornices.

6

The panels can be cut to size with a paper cutter or scissors. In the case of corners, they can be easily bent.


7

When the substrate is of wood, the tiles can be fastened using a tacker with brad nails or you can use construction adhesive. In the case of plasterboards, we recommend construction adhesive.

8

When using brad nails, position them every 15 to 30 cm on the outer edge of the tiles. 

filler panels and decorative cornices
9

When applying large wall cornices, we recommend using a wooden attachment at the corners and seams.

10

Separate seams can be corrected by tapping with a wooden block.
Product
description
steel plate, 0.25 mm thick, with stamped pattern
finish
finished or unfinished
application
wall, furniture and (suspended) ceiling
types
drop-in for suspended ceilings
nail-up for other application
decorative cornices for corner finishes
features
very easy to install
handy-sized tiles

creates a unique atmosphere

acoustics
acoustic drop-in option available
NRC 0.85 (American standard ASTM C423 – details on request)
fire rating
class A (American standard ASTM E84 – report on request)
Finish
→

The RAW tiles are unfinished. They can be painted or decorated as desired. If left unfinished, they will oxidise when exposed to moisture.

→

The powder-coated tiles require no further finishing. If desired, they can be decorated.

→

The ART series tiles are powder-coated, finished and provided with a protective top layer of clear coat.